Anthem Music Fund Wales offers funding to support organisations to run music making projects or create music career progression opportunities in Wales.
If you are looking for funding right now to support your development as a young musician in Wales, we've made a list of useful links to other funders that might be able to help you. 
Please sign up to our mailing list so we can tell you about other Anthem opportunities.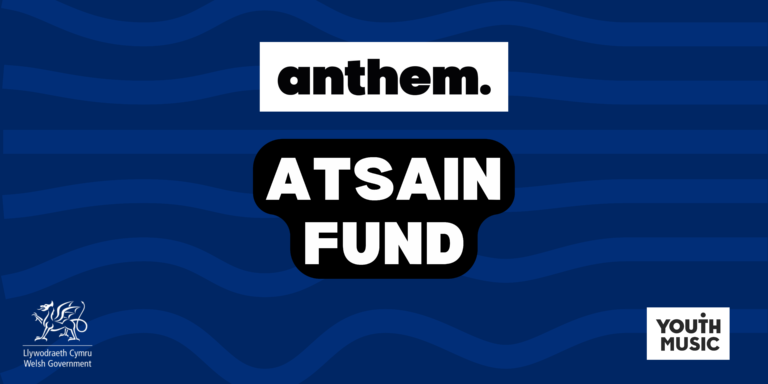 Atsain will fund work for young people aged 0 – 25 engaging in music who experience barriers through life circumstances, geographical issues, identity or background, and is backed by investment from Youth Music, thanks to players of People's Postcode Lottery, and Anthem's resources with support from founding patrons and Welsh Government.
The second funding round closed on 3 October 2022. Please watch this page for details of future funding rounds.
The application panel meets in November and applicants will be contacted in early December to let them know whether their application has been successful.
HOW TO APPLY
Download and read the Application Guidelines and Frequently Asked Questions below. Please find accessible formats below, including audiovisual and large print. 
To apply
Complete the Atsain application form. Please note that you cannot save the form and re-edit. Please find an example of the form below so you can prepare your application offline.
Submit your project narrative on our project narrative form and your project budget on our budget template form. Please save it your computer to upload it on to the grant portal.
If you have any questions about the Atsain fund or would like to discuss additional access needs or costs, please contact our Programme Manager, Rebecca Rickard at rebecca.rickard@anthem.wales
Sign up for our mailing list to make sure you receive all the latest
Anthem news hot off the press!