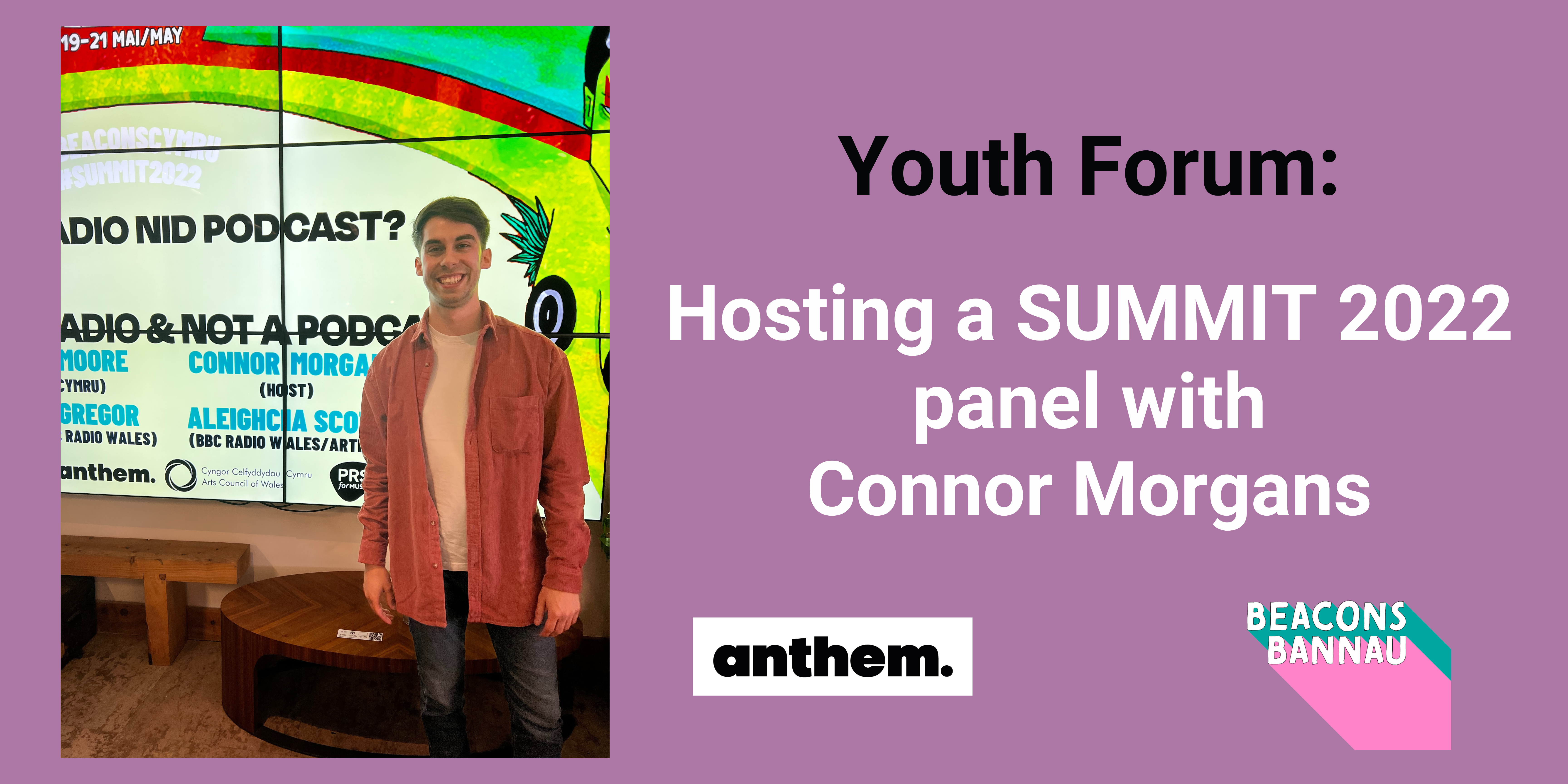 Hosting a Beacons SUMMIT 2022 Panel - "Why Radio and Not A Podcast?'
Anthem Youth Forum member and Beacons Young Consultant Connor Morgans shares his experience of hosting the 'Why Radio and Not A Podcast?' panel as a part of Beacons SUMMIT 2022 Music Conference. Connor's first steps towards working in radio meant making tea at Radio Cardiff, and gathering experience presenting on his local hospital radio. He then secured an apprenticeship at BBC Radio Wales which led to him working in production across Nation Radio, BBC Radio 3 & 4 and where he is right now – Capital FM and presenting weekend breakfast for Radio Cardiff. 
Here's how it went…
I'm Connor Morgans, I'm a radio producer and presenter and on the 21st of May Ihosted a panel for Beacons' SUMMIT conference, and I loved it!
If you are wondering what SUMMIT is, here's a quick little lesson – SUMMIT is a music industry conference and event that features some of the most exciting artists, gig promoters, producers and in my case radiopresenters. It was held between 19-21 May 2022. The event featured panels such as – 'How To Put On A Gig Night' to a 'Freelancers Toolkit'. It also featured performances from some of Wales' most exciting artists such as Charlie J, Hemes and more. Plus, (if there could be any more) there were also creative workshops being hosted! All in all, SUMMIT was a melting pot of knowledge and great few days of music held in multiple venues around Cardiff.
Although, now onto the panel that I was so fortunate to host. The panel was called Why Radio and Not a Podcast? I was so lucky to be sat on a table alongside Lauren Moore of BBC Radio Cymru, Sam MacGregor of BBC Radio 1 & Aleighcia Scott of BBC Radio Wales. All three of these incredibly talented radio lovers gave such adiverse and varied response to my questions and it was great to get a better idea on their route into radio, what they love about the platform and of course, their thoughts on radio over podcasts. Needless to say, they were all brilliant and Iwas so glad it went so well (even if I was incredibly nervous!).
My prep for this panel was paramount for me, I wanted to make sure I got some invaluable questions across but also curate it specifically for each speaker. For example, I know that Sam MacGregor got his big break at Radio 1 through his demo he sent for BBC Radio 1's Christmas Presenter search andI wanted to ask him what he thinks made his demo stand out and any advice he may have for budding presenters. Despite my preparation I really wanted the discussion to be enjoyable and conversational.
In regard to how I came about hosting the panel it all came down to my involvement with Beacons' Young Consultancy. It's a biweekly meeting featuring some incredibly talented people within the music industry here in Wales and we used our diverse and broad knowledge in the industry to best curate and produce the first ever in-person SUMMIT event! Following my placement on the consultancy, I was approached by a member of the team and asked if I may be interested due to my previous presenting experience in radio, particularly hosting weekend breakfast for Radio Cardiff. Of course, I was ecstatic to be asked and I hope I hosted a great panel.