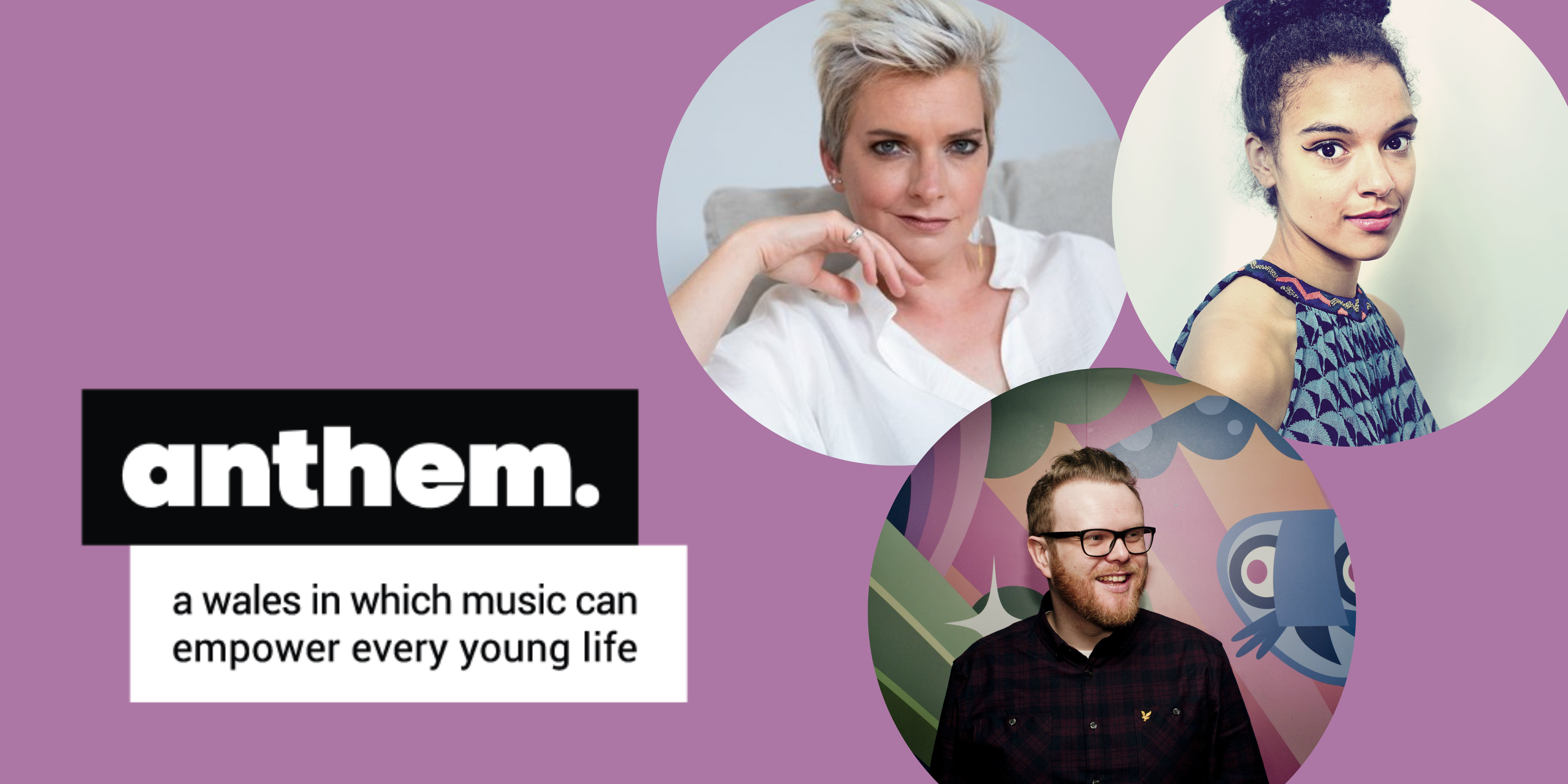 Three Inspiring Welsh musicians and industry experts announced as Anthem Ambassadors - Kizzy Crawford, Catrin Finch & Huw Stephens.
Anthem. Music Fund Wales is thrilled to announce that some of the most experienced Welsh musicians, composers, producers and industry experts will be their Anthem Ambassadors, and will help champion, inspire and nurture diversification of youth music in Wales.
Musicians and composers Kizzy Crawford, Catrin Finch and DJ and producer Huw Stephens have all made their mark on the Welsh and international music industry and bring their passion for music and young people in Wales to Anthem. 
Each of the Anthem Ambassadors had access to music from a young age, progressing their abilities and pursuing opportunities within the industry. Now they will take the opportunity to make sure successive generations of young people can be inspired and have opportunities as they did.
Welsh-Bajan singer song-writer, Kizzy Crawford has made her mark in music by fusing bilingual soul-folk jazz. At 25 years old, Kizzy and her work has had successes with airplay on international & US air-waves, BBC Radio1-4, BBC6 Music, BBC Radio Cymru, Radio Wales & Jazz FM! Croeso Kizzy!
Kizzy said, "I think the work of Anthem is really important in Wales at the moment because it provides a great platform for young artists hoping to have and sustain musical careers. The support and opportunities that are available are fantastic and in my experience, having people who encourage and believe in you when you're starting out is really helpful as a young artist."
Internationally renowned Welsh harpist Catrin Finch has performed across the World and collaborated with a number of cross genre artists. She was the official harpist for the Prince of Wales (2000-2004) and is now an artist in residence and visiting professor at Royal Welsh College of Music and Drama and Royal academy of Music in London. Croeso Catrin!
Catrin said, "Music is so important to us all, but especially young people. Whatever our background it has the power to connect us through creativity, emotion and learning.  Music should never be something that somebody cannot afford, and so the work that Anthem will do will be so vital to ensuring that every young person here in Wales has access to music and musical education, and that everyone is given a chance to flourish."
Welsh DJ and radio legend, Huw Stephens, has been at the forefront of supporting new music for over two decades on BBC Radio Cymru, Radio 1 and Radio 6 Music, as well as the founder of Sŵn Festival. Huw is passionate about music in Wales and has championed Welsh Music across the UK music scene. Croeso Huw!
Huw said, "I'm proud to be an ambassador for Anthem, as I know how important and life changing playing music at a young age can be. We love music in Wales, and the creativity that makes music of all genres must be encouraged for all."
Chief Executive of Anthem, Rhian Hutchings said: "Our ambition at Anthem is to enable access to music, generate opportunities across genres and communities, and nurture diverse talent to take the next steps to musical careers."
"We are really thrilled that Catrin, Huw and Kizzy will be joining the Anthem family and working with us to address inequalities and create musical opportunities for any young person in Wales who is experiencing barriers."
Over the next few years, the Ambassadors will help Anthem make connections and support developing opportunities for the Youth Music Sector in Wales. They will support the launch of a partnership with Youth Music to address barriers to music for young people in Wales, the creation of a digital gateway to music for young people in Wales, and the developing impact of the Wales Music Youth Forum.  The Ambassadors have started their work with Anthem by contributing to the new podcast series Amplify, with Kizzy Crawford talking to host Ify Iwobi in the latest episode – why music is so important to young people's mental health.